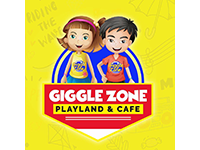 Phone Number: 9500 5644
Address: 11 Rouse Road, Greenfields, 6210
Website: https://gigglezone.com.au/
Welcome to Giggle Zone, Playland & Cafe - A part of the Learning Pod Group.
Welcome to the Giggle Zone Playland and Café where your children can play, learn, exercise, and have the best birthday parties! We offer multiple play areas, party packages, and café with a variety of food services for everyone.
Giggle Zone is more than just a playground. It's a fully equipped indoor space for your little ones to develop their physical coordination, and strength in an adventurous environment. We have something for all ages, amazing baby zone, mini Land and things for the big kids! We are the best destination for exciting and dynamic family activities! Let's have fun!
Our teams are always looking to serve you with the best services across the town. We have a unique team of early childhood educators, teachers, youth workers, scientists, specialists, barristers and loads more – really making your experience unique and truly focusing on the best interest, of the children.
Did you know we are also NDIS approved, from our entry, classes and products! For more information please contact our NDIS team support@learningpod.com.au