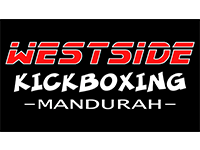 Phone Number: 0480 275 311
Address: Unit 3, 17 Gordon Road, Mandurah, 6210
Website: https://westsidemandurah.com.au/
Westside Kickboxing Mandurah is a Kickboxing and Muay Thai gym for everyone!
Whether you're a beginner or you're bringing years of experience with you, Westside Kickboxing Mandurah is here to help you succeed.
We will provide you with hands-on coaching, inspirational mentors, and the earnest accountability you need to achieve amazing things every step of the way. Located in Mandurah, we harbour a strong passion for Kickboxing and Muay Thai and will provide exhilarating and fun sessions incorporating both technique and fitness to help you be the best you, you can be.
Westside Kickboxing Mandurah is about you. It's about accomplishing your goals and providing you with an incredibly supportive community where you can pursue fitness, train hard, and dream big. From Kids to Adults, Beginners to Advanced, Kickboxing to Muay Thai, we are your home for all things martial arts. Begin your journey with us today.