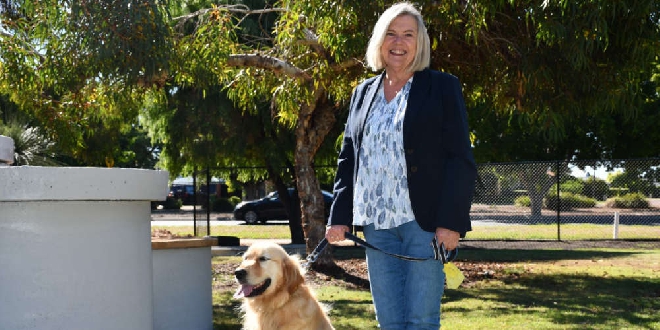 Mayor Deb Hamblin at the St Claire Reserve Dog Park in Port Kennedy. PIC: City of Rockingham
A new enclosed off-leash dog park is now open in Port Kennedy.
The new dog park at St Clair Reserve is the City's fourth, and follows on from purpose-built dog exercise areas constructed at Bayview Reserve (Rockingham), Barri Barri Park (Baldivis), and Seahaven Reserve (Waikiki).
Port Kennedy's newest dog park has a variety of features including separate 'small dog' and 'all dog' exercise areas, large grassed spaces, seating, weather shelters, accessible drink fountains and dog drinking bowls, mulched areas and an accessible footpath.
The car park at St Clair Reserve has also been expanded and includes accessible parking.
The 'small dog' exercise area is around 1000 square metres, while the 'all dog' exercise area is 3200 square metres in size.
Both sections are well covered by shade, and there are a number of obstacles and play elements for pets to enjoy.
City of Rockingham Mayor Deb Hamblin said the opening of the dog park would give community members in the City's southern suburbs a chance to exercise and socialise their pets in a new environment.
"The City is delighted to open its newest enclosed off-leash dog park at St Clair Reserve in Port Kennedy, and encourages dog owners to explore the wide range of features on offer at the dog park," Mayor Hamblin said.
"The completion of the new dog park is the culmination of extensive planning and work. Seven years ago the City's Enclosed Off-Leash Dog Exercise Needs and Feasibility was endorsed by Council, and since then four dog parks have been delivered across the community."
For more information on pet recreation areas in the City of Rockingham visit https://rockingham.wa.gov.au/petrec