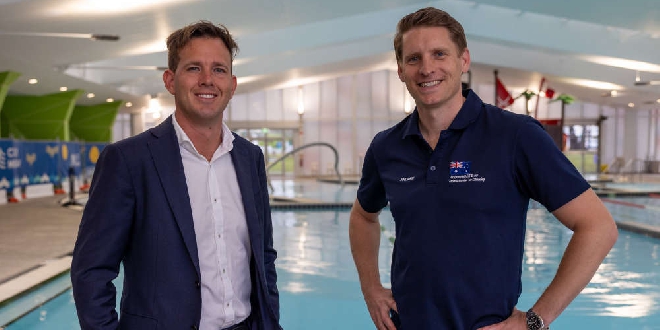 Mandurah Mayor Rhys Williams with Canning MP Andrew Hastie. PIC: Supplied
The Federal Government will invest $1.7 million to design and construct a new roof over the 25-metre indoor pool at the Mandurah Aquatic and Recreation Centre (MARC).
The pool has been closed since May last year due to the damaged roof with experts estimating it to cost $2.5 million to replace.
Through the Morrison Government's Local Roads and Community Infrastructure (LRCI) Program, $1,755,048 will be provided to the City of Mandurah to help cover the costs of the design and construction process.
Member for Canning Andrew Hastie said the funding will ensure the needs of the Mandurah community are met.
"The issues with the roof over Pool Hall 1 at the Mandurah Aquatic and Recreation Centre meant that the Centre had to close the 25 metre indoor pool for safety, and therefore families and individuals in our area couldn't use the pool," Assistant Minister Hastie said.
"That's why we have acted to approve funding for this project, paving the way for construction to get underway.
"This vital project will ensure that families and individuals in the Peel region can use the pool safely once again."
The advertising process for a design and construction contract started last month, and the tender request will be in market for six weeks before the contract is awarded in mid-2022.