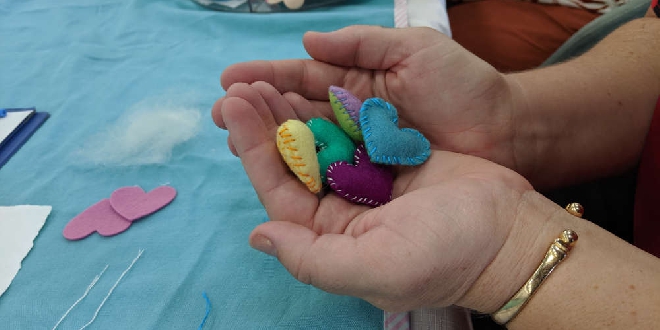 The handstitched hearts. PIC: City of Mandurah
Mandurah's community is full of heart, and locals are being encouraged to show theirs by staying connected and spreading kindness in the city.
With the ongoing effects of the pandemic being felt in the community, the City of Mandurah is encouraging people to stay connected to each other, support local, and find small ways to spread kindness.
This can include helping a neighbour, checking in on friends and family, joining a community event to connect with others, or buying locally from one of Mandurah's many businesses.
One of the ways the City is encouraging the community to spread kindness is through the 1000 Hearts project, which at its core is a random act of kindness that anyone can do.
1000 Hearts is a global kindness community that was started in Tasmania by Sarah De Jonge when she felt like the world needed a bit of love.
Sarah hand-stitched 1000 pocket-sized hearts to be given away in random acts of kindness.
After receiving messages from people who received the hearts, Sarah was touched to realise the power of these little hearts, which people carried as tokens of love, courage, hope and comfort.
Now the Mandurah community is invited to do the same and create little hearts to give to others, spreading kindness and good thoughts to those who need it.
Do-It-Yourself heart sewing packs are now available to collect at a number of City facilities including Libraries, Seniors Centre and Mandurah Aquatic and Recreation Centre for people to get stitching.
The Heartfelt Sewing group has been meeting once a month at Lakelands Library for close to three years, handstitching the pocket hearts and supporting the 1000 Hearts project.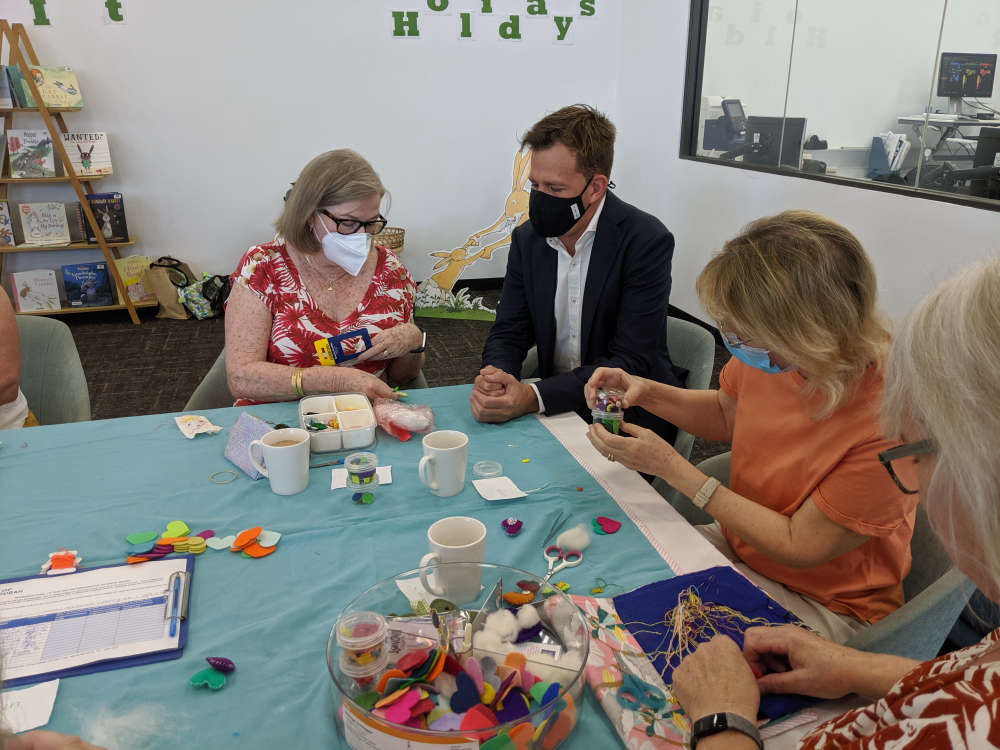 Mayor Rhys Williams at the Lakelands Library. PIC: City of Mandurah
Mayor Rhys Williams said many people in the community were still regrouping from the effects of COVID-19, and now was the perfect time to think local, support each other and show kindness in the community.
"It's time to put Mandurah's village heart on display by showing kindness to each other and reaching out and helping those who may need it," he said.
"There are many ways to do this, and the 1000 Hearts project is just one small act of kindness that can have a powerful, rippling effect on the community. I encourage everyone to grab a little heart pack, get stitching, and spread a bit of happiness."
People are invited to share their heart crafting photos on social media using the hashtags #loveyourlocalmandurah and #1000hearts