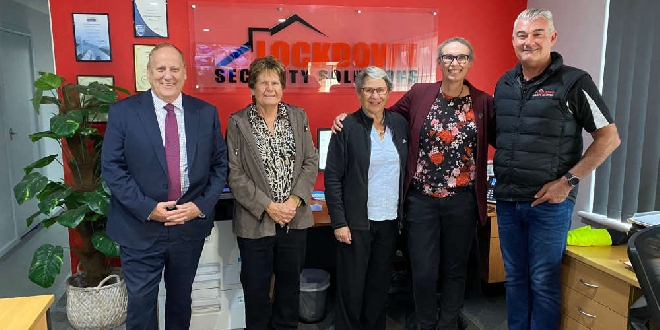 Small Business and Seniors and Ageing minister Don Punch, resident Jennifer Durrant, Dawesville MP Lisa Munday, and Lockdown Security Solutions managing director Todd Jenkins. PIC: Don Punch MLA/Facebook
Over 1000 Mandurah seniors have taken advantage of the State Government's Safety and Security rebate since it was reintroduced in August last year.
The rebate enables WA Seniors Card members to claim up to $400 towards the purchase of eligible home security, fire safety or electrical safety items.
More than $429,000 in rebate payments have been paid so far to 1133 seniors living in the City of Mandurah.
The rebate has also benefited local security businesses including Lockdown Security Solutions who has seen a noticeable increase in sales and demand since the rebate was reintroduced.
"The reinstatement of the $400 Safety and Security Rebate by the McGowan Labor Government has received an overwhelming response from constituents across all of Dawesville wanting to purchase various equipment through the rebate," Dawesville MLA Lisa Munday said.
"Dawesville has the highest number of seniors of any electorate in the State, with many choosing it as a place to retire, and I'm glad to be part of a government that is prioritising their safety and security as part of this program."
The rebate can be claimed for the cost of purchasing equipment or installation by a licensed tradesperson for devices such as:
home alarms or CCTV systems;

security door screens;

deadlocks;

security window screens or window shutters;

security sensor light;

Wi-Fi or wired video doorbell;

mains-powered smoke alarm;

fire extinguishers;

fire blankets; and

repairs on eligible items listed above.