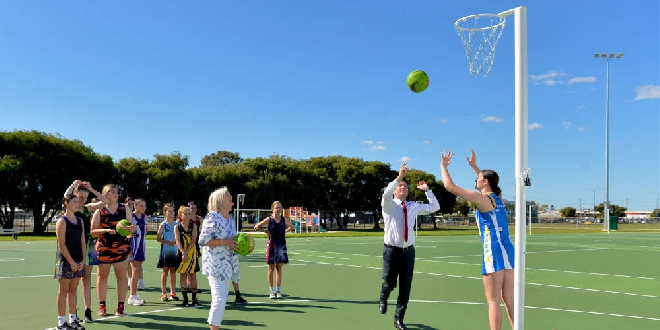 Members of some of the teams in the Rockingham Districts Netball Association watch as Premier Mark McGowan shoots a goal. PIC: City of Rockingham
Refurbishments to the outdoor netball courts at Mike Barnett Sports Complex (MBSC) are now complete.
With support from the State Government's grant program, the City has resurfaced the five northern netball courts at MBSC and installed floodlighting for training and competition level matches.
The City has also installed three new weather shelters, a pedestrian path, accessible ramp, and perimeter fencing with vehicle and pedestrian access gates.
An independent report was conducted to consider the Rockingham Districts Netball Association's request to also resurface the southern five courts.
Following receipt of the report the City agreed to resurface these courts.
The City has also begun works to upgrade an additional four eastern courts that will further accommodate both outdoor netball and basketball at MBSC.
Mayor Deb Hamblin said the City was strategically focused on planning for future generations, and the provision of sporting facilities that meet community needs was integral to this.
"Mike Barnett Sports Complex is one of the City's leading leisure facilities and is used by thousands of people, as well as a variety of user groups, each year," Mayor Hamblin said.
"With the development of the Mike Barnett Sports Complex Master Plan already underway, these latest works on the northern outdoor courts demonstrate the City's commitment to providing quality sporting infrastructure for community members.
"The City gratefully acknowledges the State Government's funding support to help deliver this project."
Premier and Member for Rockingham Mark McGowan said the State Government was delighted to provide support for the upgrades to the Mike Barnett Sports Complex.
"The Mike Barnett Sports Complex is a great community asset that is very well used locally for a range of sports and activities," he said.
"My Government is proud to partner with the City to support these improvements, making sure Rockingham people continue to have access to quality local sporting facilities for health, fitness and recreation."
Rockingham Districts Netball Association President Nicole Brown acknowledged the City and State's support.
"The RDNA appreciate the support of the State Government and the City of Rockingham for the much-needed upgrades to the outdoor courts and the enhanced safety measures which provide benefits to our players, umpires, officials and spectators," Mrs Brown said.
"To have quality facilities is important to attract and retain netball participants and it will have far-reaching benefits for the largest female participation sport now and into the future. Lastly, thank you to all involved for making this possible."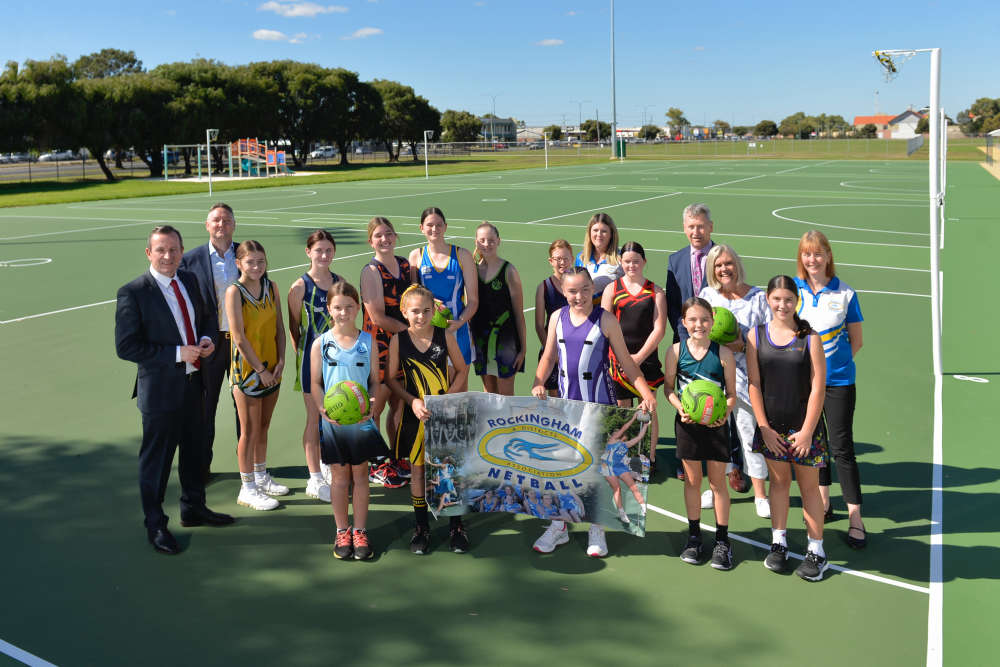 City of Rockingham CEO Michael Parker, Premier Mark McGowan, Mayor Deb Hamblin, Craig Heatley President Board of Directors Netball WA and Fever, Nicole Brown President Rockingham Districts Netball Association, Lisa Mansell Vice President RDNA. PIC: City of Rockingham