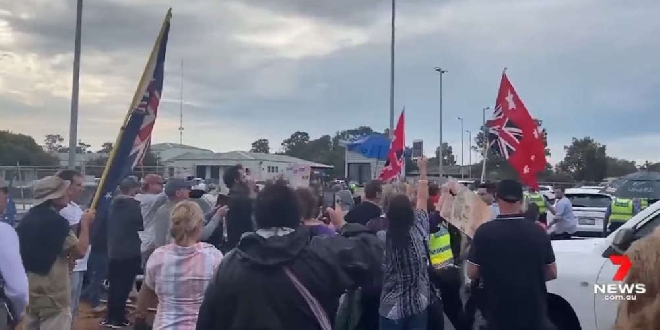 The protestors swarmed Premier Mark McGowan. PIC:7News
Angry protestors have hurled abuse at Premier Mark McGowan during his visit to Bunbury on the weekend.
Mr McGowan attended a town hall meeting at the Eaton Sports Club on Sunday and was swarmed by around 50 pro-choice protestors outside.
The group were booing him with some calling him a "dog" and a "scumbag".
The Premier was flanked by several police officers and private security.
It comes a week after Mr McGowan was forced to close his Rockingham electorate office due to his staff being threatened.
He said the protestors will not change his mind about the COVID-19 vaccine mandates.
"If people want to give up high paying jobs and good careers because they listen to crazy conspiracy theories, that is their choice. I would advise them to go and get vaccinated," he told reporters on Sunday.