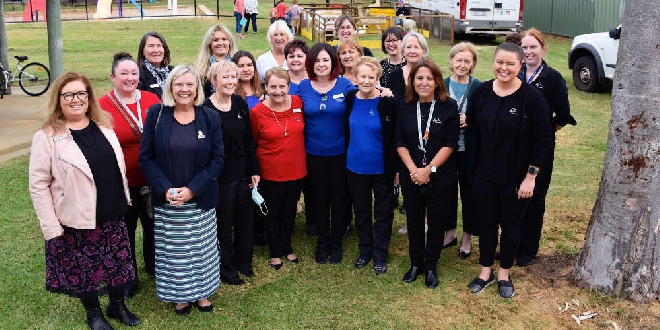 Mayor Deb Hamblin with City of Rockingham Libraries staff. PIC: City of Rockingham
Safety Bay Library has celebrated its 50th birthday.
Community members gathered at Wilson Park opposite the library this week to celebrate with a community morning tea.
Safety Bay Library was opened in April 1972 by then Shire President Alf Powell.
As the City and the Safety Bay/Shoalwater area has grown over the years, so too has Safety Bay Library.
Extensions to the facility were delivered throughout 1990/1991 which saw the library double in size, with additional work space added for library staff.
Then Mayor Richard Smith officially opened these works in February 1991.
Further extensions were added to the library in the form of a large meeting room, with former Mayor Barry Sammels launching this part of the library in December 2004.
City of Rockingham Mayor Deb Hamblin thanked the community for embracing Safety Bay Library over the past 50 years.
"As the oldest library in the City of Rockingham, the Safety Bay Library has become a cornerstone of our community," Mayor Hamblin said.
"Over the years the City's libraries have evolved and this growth is guided by the City's Library and Information Services Strategy. Members now have access to a massive catalogue of books, eBooks, magazines, audio books, DVDs, streaming movies, digital resources and workshops."