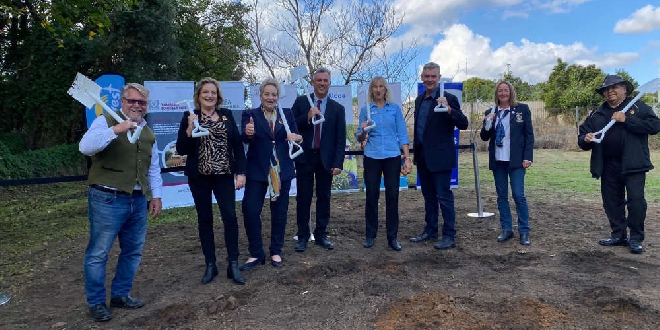 The sod has been turned to mark the beginning of works on the Waroona Community Precinct. PIC: Alannah MacTiernan/Facebook
The revitalisation of Waroona's Town Centre is officially underway, with work beginning today on the Waroona Community Precinct.
At a cost of nearly $4 million, the project is set to breathe new life into Waroona and help attract more visitors to the town.
The precinct will deliver an attractive central focal point for the town, including an events space, skate park, playgrounds, park facilities and tourist amenities.
"Waroona has big untapped potential as a tourist stopover point in the Peel region, and we are committed to helping the community achieve its vision for the town," Regional Development Minister Alannah MacTiernan said.
"The new precinct will revitalise the town centre and will be a central hub for residents as well as an attractive 'stop and stay' destination for visitors to the area."
The revitalised town centre has the potential to attract an extra 23,600 visitors (20 per cent increase) which translates into $840,000 of additional visitor expenditure per annum.
The project has funding support from the State Government, Federal Government, the Shire of Waroona, Alcoa and Lotterywest.