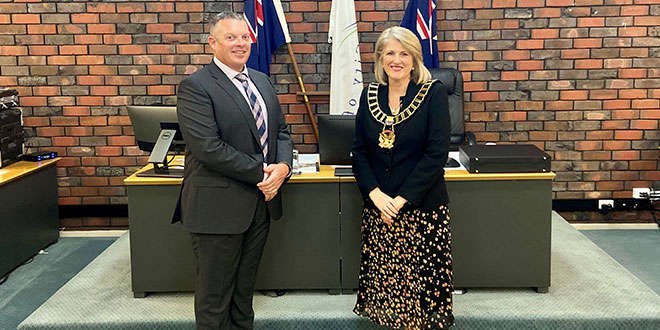 PIC: City of Kwinana Deputy Mayor Peter Feasey and Mayor Carol Adams (supplied).
The 2021 City of Kwinana Local Government Election, held on Saturday 16 October 2021, received a total of 29,787 votes.
This resulted in the re-election of current Councillors Carol Adams and Matthew Rowse, Kwinana's first Indigenous Councillor Barry Winmar and new Councillors Susan Kearney and Michael James Brown.
The City's fifth-seat, a two-year term position, became the hotly contested spot with just one voting deciding the outcome, which was confirmed in the early hours of Sunday morning after a recount of the votes following the close result.
Following the election, a Special Meeting of Council was held on Monday, 18 October 2021 which saw the council re-elect Carol Adams as Mayor and Peter Feasey as Deputy Mayor, for two-year terms.
Chief Executive Officer Wayne Jack congratulated the five successful Councillors and acknowledged their fair and professionally run election campaigns.
"Thank you to all the community members who took the time to vote and be a part of this important democratic process and a big congratulations to all candidates involved in this year's City of Kwinana Local Government Election. I'm looking forward to working with this new Council to continue to strive to make the City of Kwinana the great place it is."
"I would also like to take this opportunity to say farewell to outgoing Councillors Sandra Lee and Merv Kearney as well as retiring Councillor Wendy Cooper for their dedication and service to the Kwinana community, I wish you all the best of luck with your future endeavors."
The total results for the 2021 City of Kwinana Local Government Election were: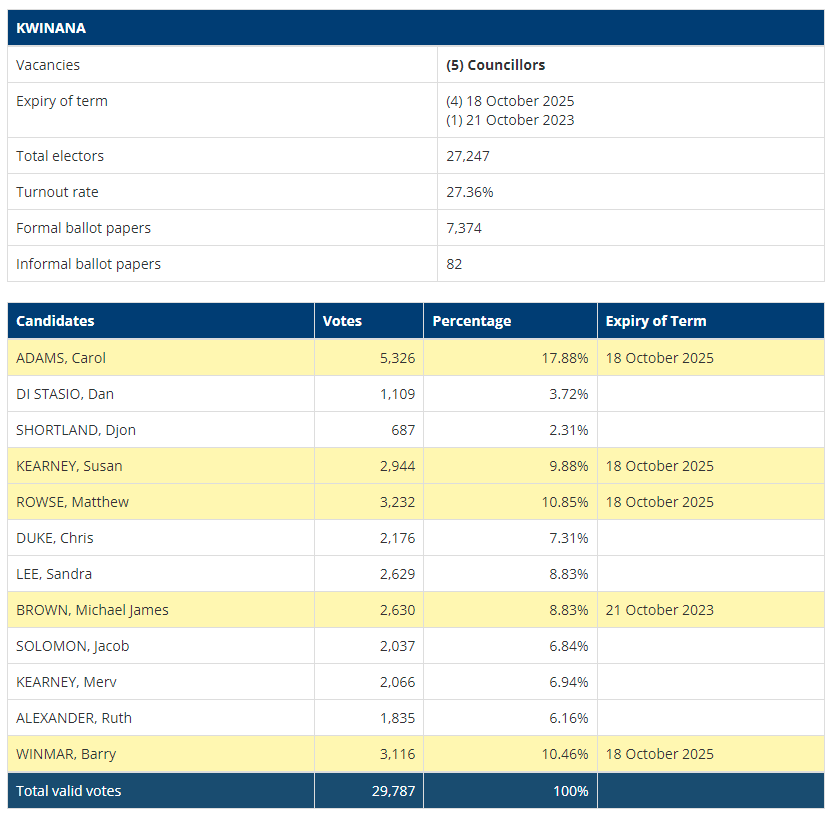 PIC: www.elections.wa.gov.au/elections/local/